[SCENE 1]
Pled tied up his horse to the hitching post outside Ringo's Saloon.
Pled told his horse, "You wait here, Manos. I got some business to take care of."


Pled was fixin' on meetin' Miss Rosy, the girl he wrote many a song about, including 'Rosy' off his latest CD 'Songs for Broken Hearts' (available at CDBaby.com and Tunes Compact Discs in Hoboken, NJ).

Manos told Pled, "Peck don't. You know she'll only do you wrong. She never was no good no how."
Pled told Manos, "Hush, Shmoutie-mout! I told you no talkin' in public. Particularly in that weird southern drawl of yours. Remember you're a horse! People don't understand us as it is."
Manos told Pled, "You mean Miss Rosy don't understand us."
Pled told Manos, "Hush, I say!"
[END SCENE]
[SCENE 2]

Pled Peck enters Ringo's Saloon, which is packed with the usual Friday night crowd. Which was strange because it was Thursday. From outside Manos could be heard saying, "Must be a 3 day weekend."
Pled looked back toward the door, "HUSH, I SAY!"
Pled saw Miss Rosy sittin' by herself in the corner of the room writin' in her journal.
"Howdy Miss Rosy"
"Hi Pled"
"I always say Miss Rosy, you should never sit in the dark. You're much too lovely to be hidin' that beautiful face of yours."

As always, Rosy ignored Pled's words and continued writing in her book.
"How's the fiddle playing coming along Miss Rosy?"
"Fine"


"I sure would love to hear you play a song. Any chance I could come by and have a listen?"
"No"
From outside, Pled could hear Manos saying, "NO good NO how."
Pled shouted across the room, "HUSH - I - SAYYYYY!!!!!"
Miss Rosy said to Pled, "I do declare, Mr. Peck, you seem like a right fool!"
Pled Peck jumps up on the bar with guitar in hand and begins singing:
[CUE MUSIC]


THE PRETTIEST GIRL IN THIS WHOLE WIDE WORLD
LOOKS AT ME LIKE I'M JUST A FOOL
I WOULDN'T MIND IF THAT'S ALL SHE SEES
BUT IF SHE CAN'T LOVE A FOOL HOW SMART CAN SHE BE?
I THINK I'M ALONE - LONE -LONE
I THINK I'M ALONE - LONE -LONE
I THINK I'M ALONE - LONE -LONE
[Outside the saloon Manos is dancing around the hitching post, having a great time]
[THE END]
NOW A SCENE FROM NEXT WEEK'S 'THE ADVENTURES OF PLED PECK'
Pled Peck stops Miss Rosy on the street and says, "Miss Rosy – go out with me"
"No"
"There's this new French bistro I just know you'll love."
"No"
"I'll bring a bottle of the finest vintage Cabernet Sauvignon you've ever had."
"No"
"We can talk about that movie 'The Devil-Doll' with Lionel Barrymore from 1936. I bet you don't know anyone else familiar with that flick but me."
"No"
"And I can teach you the chords to 'Rocky Top Tennessee' – wouldn't you like that?"
"NO!"

NEXT WEEK ON
'THE ADVENTURES OF PLED PECK'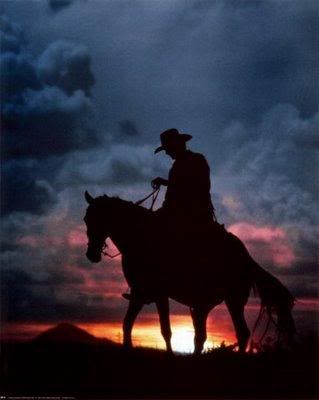 Current Music: Gillian Welch - Time (The Revelator)