A Sideshow Barker is the ring leader of a circus sideshow
A Bloody-Faced Geek is a circus performer whose face is bloodied from biting the heads off of chickens
Tony Robbins does the work that is too despicable and grotesque for barkers and geeks
In 1998 I had a friend (a guy) who was pursued by a woman who could only kindly be called a Tony-Robbins Geek. It almost goes without saying that this particular geek was a woman since women (in my experience) are far more susceptible to the embarrassingly transparent sideshow barker/bloody-faced geek 'motivational' act that Tony Robbins performs than are men. Women find his act "enlightening" and "inspiring" and "life altering" and nothing at all like a street corner game of three-card monte designed to play you for a fool and take your money.
For those unfamiliar with Tony Robbin's message, it is, in a nutshell, that you should live your life as someone class-driven (first) and a complete narcissist (second). You should base your relationships with your fellow man on their financial standing and what they can do for you career-wise, as opposed to anything silly like honest friendship, shared interests, appreciating their decency, their humanity, or their unique attributes. Pish-posh! Think "bottom line" in life! That's Tony's late night infomercial message! To be, as Chris Farley's motivational speaker on SNL used to say, "on the right track!" That's how you make money. And money = happiness, as all serious people know. There really is nothing more to his message than that. In practice, if you meet an Edgar Allen Poe or a Vincent Van Gogh – RUN! They have nothing tangible to offer! Their social standing will be a net-minus in helping you to achieve your goals. BUT, if you meet a George W Bush, a Karl Rove, or a Ted Bundy – by all means, laugh at their jokes, stand next to them in photos, and do as they do! These are good people with which to build a lasting, net-plus relationship. And THAT'S how you achieve happiness! Fuck humanity – money rocks!


Another interesting aspect to Tony Robbins is the fact that he has to spend his entire life shilling on 3 AM TV and in sweaty conventional halls filled with the absolute lowest of the lowly common denominators, but that it somehow in no way detracts from his message of "living the good life". Do as he says, not as he does!
Tony Robbins adopted the televangelist business model to achieve his "good life", but instead of using the Bible as his marketing gimmick to screw people out of their money (like Pat Robertson, Jerry Falwell, the Trinity Broadcasting Network, etc.) Tony uses his own 'Guatemalan cock-fighting' brand of theology to sway gullible passers-by who are easily distracted by shiny objects and the promise of riches. As with all self-help gurus, he tells people what they already believe, and then placates their selfish desires. THAT is who and what Tony Robbins is all about.
To get back to my original story, the Tony-Robbins Geek that pursued my friend (let's call her Jo-Jo the Dog-Faced Woman), followed Tony's teachings religiously. Jo-Jo knew that my friend had both financial and professional clout. To get in his "inner circle", she would woo him with season tickets to ball games (box seats – even if it was only the Phillies) and a vacation home he could use at the shore. We both knew that Jo-Jo was a disciple of Tony Robbins and we would joke about it often. We also knew how vacuous and limited her worldview was (as are all Tony-Robbins Geeks). So, my friend, whose charisma knew no bounds, took these offerings and saw her as a simple-minded twit to be taken advantage of (much as Tony Robbins sees his flock). The funny thing was, since I worked with her, I did try to have a conversation with Jo-Jo one day and she was immediately curt with me. Tony Robbins had warned her about my type! Who was "I", a silly writer, to waste civility on?! What leverage did I have in the business community! How would it broaden her financial portfolio to discuss the weather with me? What was there to be gained monetarily by having a tête-à-tête with someone who lived in MY community?!
This is why what Tony Robbins does is so loathsome and more grotesque than biting the heads off of chickens. He teaches weak-minded people obsessed with climbing the social ladder (and fighting off deep personal insecurity) to believe that being bigoted, and sucking up to the "star-bellied Sneetches", and living life as a broomstick-up-the-ass prick, are the keys to success. That's why it never bothered me when my friend took advantage of Jo-Jo the Dog-Faced Woman. She deserved to be treated like shit because her worldview, and how she treated others, was shit.


My friend and I often talked about buying a church and setting up a similar scheme, using both Tony Robbins' bigotry and Jim Jones' religious exploitation, as our business model. Eventually though, we both realized how much of our soul would have to be permanently extinguished to follow such a path in life. Life is too short to just play people for fools, even those who deserve it.
Since that time in 1998, I have met several others (again, all women) who find wisdom in the sideshow barker/bloody-faced geek message of Tony Robbins. They are often people who should know better, but are usually young and naive, and as I have found, the key to Tony Robbins' success, and why such an odious and repulsive way of thinking is received so strongly by his followers, is that he tells them what they already believe and he reaffirms their selfish, prejudiced worldview.
Primarily, they find comfort in Tony's dogma that dictates the good life can only be achieved (in essence) by being a worthless, self-centered, bigot. End of story.
Money rocks! Humanity sucks!

But what comes around goes around, as Jo-Jo the Dog-Faced Woman discovered.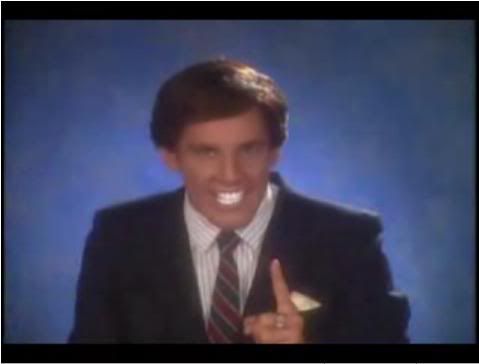 Tony Robbins parody - Ben Stiller
Current Music: Frank Sinatra - Ring-A-Ding-Ding