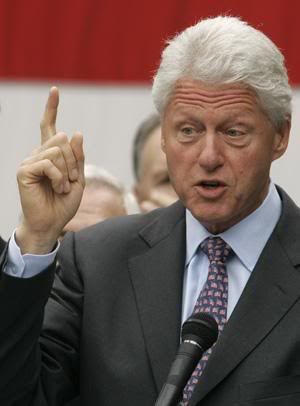 HILLARY CLINTON 2008 CAMPAIGN TRAIL
DATE: MAY 4, 2008
PLACE: FLOYDS KNOBS, INDIANA
SPEAKER: FORMER PRESIDENT BILL CLINTON
And now, Ladies and Gentlemen – Former President William Jefferson Clinton!
(CROWD CHEERS)
Thank you, thank you, thank you! It's great to finally be here in beautiful Floyds Knobs, Indiana!
(CROWD CHEERS)
I apologize for the delay. Our plane got rerouted over Denver … I spent most of the evening at the airport bar (laughter) but I finally made it here, and you made it here, and Hillary's gonna make it all the way to the White House with your support!
(CROWD CHEERS)
Wooh! I tell you what! This campaign has been nothing but a series of lies and distortions.. but enough about me, we're here tonight to help usher in a new era of responsibility in Washington! A new direction! A new course for the 21st century! No more politics as usual! And next year by this time we'll have our FIRST FEMALE PRESIDENT!! Can I get a WHAT-WHAT?!!
(WHAT WHAT!!)
There ya go!
Ya know .. I'm gonna level with you. Y'all are simple folk. Like me. Y'all know when someone's blowing smoke up the ole keister canyon. And unless you've paid for it, you don't like it! And I don't either!
(CROWD CHEERS)
But I gotta tell you .. I don't like to break down like this (sniff) but if y'all don't put Hillary in the White House, my life is gonna be a living hell! She will never let up on me – not for one goddamn day – for the rest of my life – that it was all MY fault that she lost!
(AUDIBLE GASPS)
Last week, Hillary told Baby-Boy Russert on 'Meet the Press' that her administration would "obliterate" Iran if it ever launched a nuclear strike on Israel.. (Can someone get me drink? Turkey Mountain or Virginia Lightning would be fine..)
Obliterate Iran! Jesus! Apparently, that caused some consternation with the more progressive members of the party. So, today George 'My-Momma-Screwed-A-Dwarf' Stephanopoulos asked her if she regretted making that statement. She said, "Why would I have any regrets?"
Lord have mercy! And I'M the one whose gonna pay when she loses! .. Well, at least she's got Ann Coulter's vote, and Bill O'Reilly's, and Richard Mellon Scaife's, and Rupert Murdoch's….that's my girl ….. Can I have that drink now?!!
Oh, and I heard The Boss, Bruce Springsteen, came out recently and said he was backing Obama. Well, let me tell ya something BRUUUUUUUCE, y'all can kiss my ass! Ya hear that? Weren't you the one who wrote that song, 'That Ain't No Way To Treat A Lady'? .. Or was that Helen Reddy? I can never tell you two apart.. Either way, you dealt me a dirty one there, Bruce, and I'll NEVER forget it!
And I was reading today that Tom Hanks – Forrest Gump himself – put his support behind Obama! Well guess what! We don't want your support, moron! How do you like that?! "Duh! I'm Tom Hanks! I'm voting for Obama!" .. Nothing but a goddamn fool. That's what he is!
(MORE AUDIBLE GASPS)
Someone's signalling me that I should back off… HEY! SOMABITCH! .. I'm BILL CLINTON! The last president America liked, REMEMBER?!.. Y'all don't know a damn thing about these knuckleheads if you don't think I can get them to jump through a hoop for me! .. When I say 'JUMP!' they say 'HOW HIGH?' … Floyds Knobs, Indiana! Jesus Christ! Wouldn't you love to know how this town got it's name?
(BOO!!)
AH, FUCK Y'ALL!
I'm outta here!! You people know you owe me and you're gonna do me this way?!!
(BOO!!)
GO AHEAD! VOTE FOR THE GODDAMN BLACK GUY! YOU NO GOOD BASTARDS!
(BOO!!)
Backstage on the phone: "Hi, Hillary? It's Bill. I got some real bad news to tell you. You better sit down..."
Current Music: Paul McCartney - Wildlife