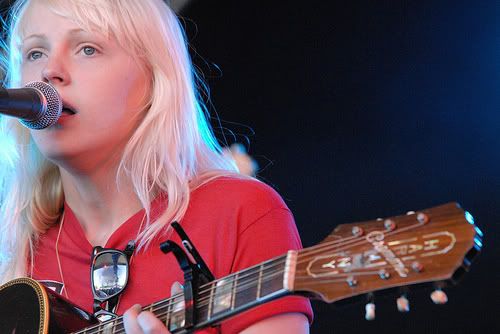 No one loves an impassioned Soul shouter more than I do. Or a rock n roll screamer that takes no prisoners. I've always loved fiery singing. But every now and then a singer comes along that is just as disarming in their delivery without raising their voice much above a whisper. I recently discovered such a singer from Reading, Berkshire, England named Laura Marling. Not only is she amazingly talented, with great observational lyrics and an uninhibited stream-of-consciousness style of writing, but she also has such a captivating voice that I have not been able to go one day without listening to her recent EP 'My Manic and I' for the past 2 weeks. Some days I listen to the disc several times. And as someone with an insatiable appetite for more music, I can assure you that's very rare for me.
So much of what a great singer does is similar to what a beautiful painting does. It cannot be described in words. It's the subtlety, the nuance, and the individual expression that moves you. The unique combination of Laura's angelic voice and her unusual lyrics is one of the main reasons her songs are so captivating. The fact that she's only 17 is not only hard to believe it's astounding! While there are glimpses of her youthful worldview in her lyrics (such as on New Romantic) there are just as many suggestions of a woman much older and much more worldly than her young age would suggest.
--


The opening lyrics to 'My Manic and I' seem like pure inspiration. Great imagery that is equally sad and beautiful:
He wants to die in a lake in Geneva,
The mountains can cover the shape of his nose
He wants to die where nobody can see him
but the beauty of his death will carry on so
I don't believe him
Her ability to paint a picture of yearning for fulfillment, while keeping the verse poetic, sets her apart from so many writers who, when faced with this subject matter, either wallow in self-pity or bore you with tiresome angst. Laura does neither:
I'll wander the streets avoiding them eats
Until the ring on my finger slips to the ground
A gift to the gutter, A gift to the city
The veins of which have broken me down
One of my favorite passages by her is in the song 'New Romantic', when she attempts to explain her jumbled emotions:
So we stayed up late one night to try and get our problems right,
But I couldn't get into his head just what was going through my mind, I think he knew where I was going, he put Bryan Adams on
I think he thinks it makes me weak, it only ever makes me strong,
I've got this friend and he sounds just like him,
And he's the man I'd leave you for, the man that I just adore like you

The same man he turned to me, said "I've got to tell you how I feel, If god could make a perfect girl for me it would be you"
And my god told me not tell about 'how much do you love your fella' I don't know - more everyday
Not in this new romantic way
And in the same song she doesn't shy away from expressing her thoughts without any filtering for 'radio consideration'.
I made you leave her for me and now I'm feeling pretty mean
But my mind has fucked me over more times than any man could ever know
One of the most subtle gifts of a writer is to walk a fine line over misery and happiness, fear and strength, seriousness and humor. And for a writer as young as Laura Marling to infuse her writing with those dichotomies in such a seemingly effortless way is truly remarkable. A good example of how she exhibits such a light touch using both darkness and wit is in the opening lines of 'Night Terror':
I woke up and he was screaming
I'd left him dreaming
I roll over and shake him tightly,
And whisper "If they want you, then they're gonna have to fight me"
And one of the most difficult things for a writer to do is to strip away all pretenses. To tear down the mask you spend your life building up. To remove the face you've created to hide your most naked emotions. Without my knowing anything about what drove Laura to write the song 'Typical', the least promoted track on the EP, I knew she had done exactly that. Every time I listen to this song it brings tears to my eyes:
I'll keep on going I've got nothing to lose
I gave up morals when I took up you
And it's boring to hear of another young truth
And what a typically shit thing to do

As with all performers, the test is in the delivery, and describing what Laura Marling does is as futile as describing a sunrise or a sunset. It has to be witnessed. So witness Laura Marling:


My Manic & I