"I've been listening to you in my car, man. You're a hell of a writer!"
- Jerry Lawson
Lead Singer of The Persuasions
To James Power on September 30, 2007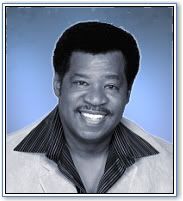 I just got off the phone with Jerry Lawson .. Let me say that again. I JUST GOT OFF THE PHONE WITH JERRY LAWSON!!!

The lead singer of the Persuasions for over 40 years, and inarguably one of the greatest voices alive, just told ME that I am "a hell of a writer!"

The value in that for me is beyond words!

Let me put this in perspective for you. Everyone in this life has certain people they look up to and respect. Whether they're artists or writers or even sports figures, you have certain people whose opinions are invaluable in their importance. For me, Jerry Lawson is one of those few people – a man of enormous integrity with a body of work that speaks for itself.

Here is a man who for the past 40+ years has sung the works of writers from Bob Dylan and Lennon & McCartney to Hoagy Carmichael and Irving Berlin, from Carole King and Paul Simon to Sam Cooke and Curtis Mayfield. And not 10 minutes ago Jerry Lawson told me that, not only had he been listening to my CDs in his car, but that I was "a hell of a writer!"

Damn!

The first time I ever heard Jerry Lawson sing was in the summer of 1988. I was working in a warehouse and was on a lunch break. I was in my car and was tuned to WXPN in Philadelphia. Out of nowhere they played a track that was so powerful, I still remember having to slow down my car because I was so mesmerized by the singer. The song was a cover of Elvis Presley's 'Return to Sender'. The Band was the a cappella group The Persuasions, and the lead singer was Jerry Lawson. What amazed me most about Jerry's singing, and always amazes me every time I hear him, is that he is the only singer in popular music that sings in the house-wrecking style of Gospel quartet singers from the golden age of gospel music (1930's - 1950's).
While there have been many great soul singers that have either come from the church (such as Sam Cooke, Lou Rawls, and Clyde McPhatter, to name only a few) or emulated the gospel style of singing (such as Ray Charles and Joe Tex), no other singer in popular music ever so closely adhered to the gospel quartet style of lead singers such as Louis Johnson of the Swan Silvertones, Julius Cheeks of the Sensational Nightingales, or Archie Brownlee of the Five Blind Boys of Mississippi, than has Jerry Lawson.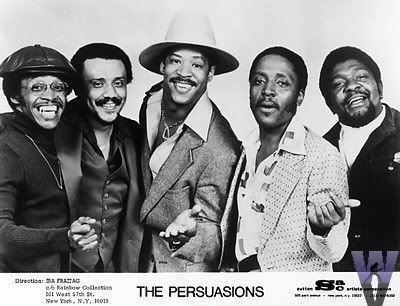 The quartet singers in soul music have always followed a slightly more restrained style of singing (even David Ruffin of The Temptations and Levi Stubbs of The Four Tops) and didn't have the ferocity of GOSPEL in their singing that Jerry Lawson has and still delivers! Even singers that did come closest to that gospel style (such as Wilson Picket, Sam Moore, and Otis Redding) didn't have that extra something that made it transcendent in it's delivery – meaning that it seemed to take flight and leave the mortal world behind. If you don't know what I'm talking about, check out Julius Cheeks, Archie Brownlee, and The Swan Silvertones. They were among the greatest practitioners of that style of otherworldly singing.
Or check out Jerry Lawson!

I have no idea where it comes from, or how Jerry Lawson today remains the sole practitioner of house-wrecking R&B, but he is, and has held the crown without any peers.

He has just released a CD with the a cappella vocal group 'Talk of the Town' that is easily one of the greatest albums of the year! It is his first release without The Persuasions, and covers an astonishing array of material from Sam Cooke's version of 'Frankie & Johnny', to Randy Newman's 'He Gives Us All His Love', to the Pointer Sisters 'Slow Hand', to a jaw-dropping cover of Dolly Parton's 'Islands in the Stream'. There's also Marvin Gaye's 'Try It Baby', the Dixie Chicks 'I Hope', the Andrew Sister's 'Boogie Woogie Bugle Boy', Shania Twain's 'Honey, I'm Home' (talk about an off-the-wall cover!), and the Sensational Nightingales gospel classic 'New Buryin' Ground'.


The opening track is the early 60's hit 'Mountain of Love' – and it COOKS with a driving feel reminiscent of the best of the Persuasions! They then take Billy Joel's 'The River of Dreams' and give it the kind of R&B harmony delivery Mr. Joel no doubt imagined when he wrote it (but could never deliver like this!) You'll also be absolutely floored by their take on Louis Armstrong's 'What A Wonderful World' (with all the versions that have been done of this song, this is the ONLY one to give Louis Armstrong a serious run for the money)!

I HIGHLY recommend this CD to anyone with a passion for great harmony singing and powerfully moving music! Jerry Lawson and Talk of the Town touch on just about every genre of music on this CD: pop, country, rhythm and blues, gospel, rock n' roll, and standards. It has to be heard to be believed! And with the horrible state of radio in the 21st century, if you don't but this CD you'll most likely never hear it! And to never hear it means to miss out on music that is vitally important! As his beautiful wife Julie said to me recently, "He has so much joy to offer so many who would be uplifted. It's exactly what we all need in our lives, more harmony."

I can't add anything more to that.

Except to say that JERRY LAWSON SAID I'M A HELL OF A WRITER!!!
DAMN, MAN!!!!!!

Current Music: Jerry Lawson & Talk of the Town