It's almost 3 AM on Saturday. And as usual, I'm thinking about music. And no one epitomizes the sound of 3 AM like Frank Sinatra. From 'One for My Baby' to 'Wee Small Hours', Frank captured the blue mood and lonely silence of the early morning hours like no other performer.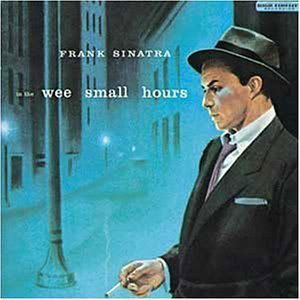 My very soon to be released CD 'Real, Real Man' (being pressed this week, hopefully), is dedicated to 4 artists that I feel are most responsible for how I write and perform music. Those artists being Hank Williams, Buddy Holly, John Lennon, and Frank Sinatra. While the influence of the others may be more readily apparent, the execution of a song from the point of view of an actor is something I try to take from Frank (on top of his incredible repertoire of sad songs which I also follow). As corny as it sounds, he didn't just sing a song, he lived the role the lyrics portrayed, as an actor would with a script. While I will never have Frank's enormous gift to make his songs cinematic in delivery, his interpretation of lyrics is often on my mind when I'm singing, and I have always considered him one of my primary role models as a singer, as the dedication indicates. Even though I've written much of the material I perform, it still has to be delivered from the point of view of the person I was when I wrote it in order for it to sound fresh. If you've ever kept a diary, you know that your feelings for people and situations can change rapidly. But with a song, it's important to recall those feelings for a song to be as entertaining as possible.

When you listen to Frank's career starting in the 1930's, and the many stages he went through, I would say that the most important song he ever recorded, that took him from the young Bobbysoxer idol of the 40's to the wise and harder-edged singer of the 50's (and beyond), was a song he recorded in 1951 called "I'm A Fool to Want You". His delivery on that, in my opinion, made him instantly one of the most important singers in recording history. While he went on to sing many more songs in that style, that was the first one to showcase the dark, inconsolable sadness that made so much of his later work legendary. Anyone familiar with Frank's life knows he was singing about Ava Gardner, the woman who was easily the greatest love of his life (after they divorced in 1957, Ava never married again, and was quoted as saying that Frank was by far the "love of her life"), yet they were so similar they couldn't stay together, and I always felt it was apparent in Frank's delivery from the time of their relationship on how it tore him apart.




I think that Frank, more often than not, was recalling that relationship to inspire his saddest performances for the remainder of his life. It gave another dimension to his songs and added realism that seems lost on almost all other singers. Frank once said, "I would like to be remembered as a man who brought an innovation to popular singing. A peculiar unique fashion that I wish one of these days somebody would learn to do, so it doesn't die where it is". Unfortunately, his "peculiar unique fashion" was so singular that I think it did die with him. Even though he took freely from Billie Holiday, and did not have the vocal range of Nat King Cole or many other singers, there was such uniqueness to his execution and the powerful tone of his voice that it is breathtaking how superior, all these years later, it still sounds.

I'm sure I'm repeating myself (it is 3:30 in the morning), but the thing I take from Frank Sinatra is when I'm singing I will intentionally recall the saddest aspects of failed relationships to make the lyrics more dimensional, and to hopefully give my delivery the kind of edge that Frank seemed to tap into so effortlessly.
What Frank Sinatra means to me, and will always mean to me, goes beyond any silly little ramblings I can write on this page at this time of night. In a world where I find fewer and fewer people worthy of great respect, what Frank Sinatra left for me and for future generations, and the happiness he brought to this world during his lifetime, goes beyond my love and respect. It's a profound appreciation for a man literally responsible for his own musical genre. What greater compliment can you pay the man than to say he honestly had no peers and was "The Voice" of the 20th century?


Current Music: Frank Sinatra - Best Of Columbia Years 1943-52 [4-CD SET]