Since I figure the only people that read my blogs are prosecutors building a case, the FBI, and people so bored with life they think I'm kinda cute, so I tend to write about things that interest me very deeply. No doubt, I will one day lose all interest in writing this blog and that will be that. So, while I have the desire and impetus to write I will.

A couple of weeks ago I wrote something that I wanted to clarify, since it's an issue that means so much to me that I never take it lightly (even if no one else cares). That issue is R&B music. As long as I can recall I have been an R&B junkie. And by R&B I mean the music that began post WWII and remained one of the greatest forms of music and artistic expression until the 1970's when it became assembly line dance music, at least as a progressive art form (in my opinion). By the way, the 2 best books on this subject are 'The Death of Rhythm and Blues' by Nelson George and 'Sweet Soul Music' by Peter Guralnick.

Anyway, the thing that I said that's been nagging at me is that when I wrote that the Five Royales were 'The Greatest R&B Vocal Group in History', I should have immediately made clear that they are tied for that honor with one other band, and I would be incredibly remiss not to include them. That group is the original Drifters with the amazingly unequalled and unsurpassed vocals of Clyde McPhatter. Even after fifty plus years since their last recordings, they have never faced any serious contenders for what they achieved vocally. Again, the major reason for their achievements lay with Clyde McPhatter's enormous gifts as a singer, but as a band (with Bill Pinkney, Gerhart Thrasher, Andrew Thrasher, Willie Ferbee, and Jimmy Oliver on guitar) they created nothing short of pure magic. Sadly, their output with the original line up is so limited that it can fit easily on one album (or CD).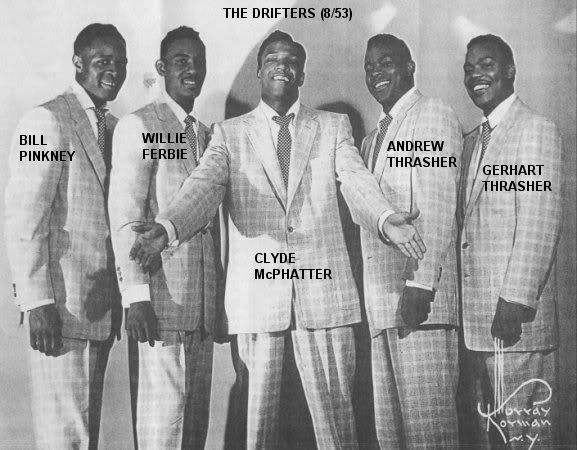 While the Drifters went on to much greater popularity and success post Clyde McPhatter with Ben E King, Rudy Lewis, and Johnny Moore in the lead spot, those first recordings, I believe, are as good as R&B or vocal harmony groups in general have ever gotten (at least in secular music – I'll write more about that in the future).

When I was 13 I bought my first Clyde McPhatter LP at a flea market. The fact that I can recall my age should give you some idea of how much of an impact that album had on me. It was called 'Lover Please' and was a great mix of R&B, blues, and pop/rock tunes. I'd sit in my room and play that album over and over and over. At this point, my knowledge of the Drifters was their late 50's/early 60's hits played on the local oldies station without Clyde, such as 'On Broadway', 'Under the Boardwalk', 'Up on the Roof', 'Save the Last Dance for Me', etc.




In the liner notes of the 'Lover Please' album, they mentioned Clyde had been with the Drifters. I'm pretty sure I was unaware of that at this point. So naturally, being as amazed by Clyde's solo album as I was, the next logical step was to seek out his work with the Drifters.

In those days, pre-Internet, I was at the mercy of local record stores and flea markets for all my music. If they didn't have what I wanted, I went without. I know it took some time, several years actually, before I was able to get hold of those first Drifters recordings. Eventually, I found an import from the UK (God bless the UK for their re-issues of American music!) and it had all but 3 or 4 songs of the entire Clyde McPhatter and the Drifters catalog. As with the 'Lover Please' LP, I played this album until the grooves wore out! Hearing songs like 'Whatcha Gonna Do', 'Such a Night', 'Money Honey', and 'Warm Your Heart' was beyond captivating – I was awestruck! To this day, hearing those recordings does something to me that I can't explain. The warmth, the excitement, the vocal acrobatics. With fast songs that rolled like a freight train and ballads that soared and enveloped the listener like heaven's own choir. Even trying to explain how much I love those recordings is pointless. No words are adequate.

As happened to so many artists, Clyde McPhatter was unable to maintain the success he had in the fifties into the sixties. My own personal belief is that he went in the wrong direction musically. He seemed to want to move into the Nat King Cole/Frank Sinatra genre, when he should have followed the path of Sam Cooke and Otis Redding into the burgeoning soul movement. But even on his overly orchestrated sixties recordings, his voice, to the end, was one of the most beautifully soulful I have ever heard. I would go so far as to say he was the male equivalent of Billie Holiday. He could express himself vocally in such an endearing and heartbreaking manner, every note he sang can literally stop you in your tracks to pay attention. I can think of very few artists that ever achieved that.

Less than 2 months before he died of a heart attack, brought on by alcohol abuse, in 1972 at the age of 41, Clyde was interviewed by Marcia Vance at the Camelot Inn in Brooklyn. As she was introduced to him as one of his fans, he looked up bleakly and said, "I have no fans".

He was wrong about that.

Clyde McPhatter will always have a singular place in my heart and I will always adore him.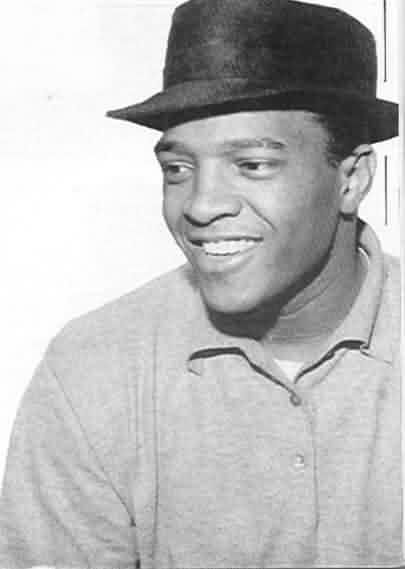 Current Music: The Drifters - Bip Bam