I listen to a lot of music. An absurd amount of music. If music was a drug I would have OD-ed long ago. If music was an impairment to my health, I would be a musical cripple.

With that being said, there are many CD's and new artists that I have been listening to over the past 7-8 months that were unknown to me previously. And I am tempted, every time I go bananas over one of these new groups or singers, to write a column in praise of their work.

Some of the artists who have absolutely floored me over the past several months are (in no particular order), The Puppini Sisters, Stephen Lee Canner, Die Piratenbraut (Lord have mercy, can that girl sing!), Toini Knudsten, The Go Getters (Rock und Roll, baby!) Imelda May (The greatest female rock voice in at least 20 years - Seriously!), and Peri Lyons (a warmer, more sophisticated voice you will NEVER find!).

I have also become aware of a few artists from long ago that I had never heard. Easily the most impressive in this category is Connee Boswell, both as a solo artist and with her group 'The Boswell Sisters'. How this lady escaped my radar my whole life is a complete mystery to me. Not only did she do extremely inventive things like change melody lines from majors to minors (so cool!) but she had a timeless voice that sang classics such as 'Heart & Soul' in such a definitive way that I doubt I'll ever hear those songs again and not think of her interpretation. The highest praise to give her is that Ella Fitzgerald lists her as a primary influence. Nuff said!

So, with all that out of the way, I wanted to write about one group in particular that really kicked me in the head HARD this week. I have been aware of them for about 20 years, but I became reacquainted this week in a way that truly opened my eyes. The group I'm speaking of is 'The Five Royales'. Their lead guitarist and writer was a guy named Lowman Pauling. Pauling wrote songs such as "Dedicated to the One I Love" (covered by the Shirelles and the Mamas and the Papas), "Think" (covered by James Brown and Ray Charles), and "Baby Don't Do It". Other hits by the band included, "Help Me Somebody," "Right Around the Corner", "I Could Love You if You Let Me", "Come On & Save Me", "I'm With You", "All Righty", and "Laundromat Blues".

While this group is not only ridiculously under-rated for their contribution to R&B and Rock n Roll, they seem to have been all but forgotten when people talk of the early days of rock n' roll. Every time I listen to them I not only slam the dashboard saying out loud, "GOD, these guys are great!", but I also think of how much it must have eaten away at Lowman Pauling that they never received the mass acceptance they deserved. When their material was covered (by the Shirelles, Mamas and the Papas, or Ray Charles) it was a huge smash! But THEIR versions were the source! THEY were breathtakingly brilliant! Yet, fame outside the R&B world always eluded them.

Their lead singer, a man named Johnny Tanner, had a velvety, sexually charged voice that was truly in a class of its own. He had the ability to sing in a raucous, no holds barred, manner when the song required it, or sing in a soft, reflective, moody style that savored every syllable to bring the most heartfelt meaning out of the words.

The band also consisted of tenors James Moore and Obadiah "Scoop" Carter, and baritone Otto Jeffries. When Jeffries became the group's manager, he was replaced in the baritone spot by Eugene Tanner, Johnny's brother. In the early days, before the group switched over to secular music, they were called the Royal Sons, with Lowman Pauling's brother Clarence in the group (Clarence later shortened his name to Clarence Paul and was one of the most successful producer/songwriters at Motown in the 1960's, mentoring a young Steve Wonder).

As far as chart success, they had a total of 7 top 10 hits on the R&B charts in the 1950's, with "Baby Don't Do It" and "Help Me Somebody" both reaching the 1 spot in 1953. The other hits: "Crazy, Crazy, Crazy" (5 in 1953), "Too Much Lovin'(Much Too Much)" (4 in 1953), "I Do" (6 in 1954), "Tears Of Joy" (9 in 1957), and "Think" (9 in 1957).

For guitar enthusiasts, Pauling's innovative and searing rock/blues approach was emulated by artists such as Steve Cropper and Eric Clapton. Many consider his guitar technique the band's greatest asset. As a lyric-lover, I consider Pauling's songs equally, if not more, impressive.

The thing that really blew me away about them this week in particular was a CD I picked up that was recently issued out of the UK entitled 'Catch That Teardrop - The Best of the Home of the Blues 1960-1964 Sessions'. Prior to this week I was only familiar with their 1950's output. Hearing this CD, and seeing how they were adapting in the early 60's to the changing times, when R&B was becoming more gospelly with artists such as Wilson Picket and Otis Redding , was just something I had never known about them. To say it was a revelation is truly an understatement. From the opening notes of the CD's kickoff song, "Show Me", I was floored by how the band was changing. While the song itself is reminiscent of "I'm With You", it was clear that there was a new dynamic taking place in the band's delivery. Sounding more like James Brown and the Isley Brothers of the 1960-62 era, it is clear this band had a lot more great music left in them. Unfortunately, these are their final recordings.

The second half of the CD is comprised of tracks Lowman recorded on his own after the band broke up with a singer named Royal Abbit. Surprisingly, even after Johnny Tanner was no longer the lead singer (turning his back on secular music for nearly 30 years), the quality of the material and execution was still phenomenal. A clear sign of just how important Lowman Pauling's creativity was to this band (Listen to "I'm A Cool Teenager". Just LISTEN to the sound and atmospheric soul Pauling was delivering. It is CRIMINAL this stuff has been in the vaults all these years, and that it's unknown!)

On November 8, 2005, Johnny Tanner died. When I did a news search on him, I eventually found his obituary. It was not in Billboard, or Variety or Rolling Stone or in any music or entertainment source. It was in The Winston-Salem Journal, Winston-Salem, NC. Dated November 10, 2005:
---------------------------------------------------------------


Mr. John L. Tanner, Sr., of 2513 Stokes Ave., Winston-Salem, passed away Tuesday, Nov. 8, 2005, at Wake Forest University Baptist Medical Center. He was born Nov. 28, 1926, in Fosyth County. He was the son of Eugene Tanner, Sr. and Marie Cunningham Tanner. Mr. Tanner graduated from Atkins High School, and he served in the Korean War. He started his singing career with the Royal Sons, and later began singing with the Five Royales, a popular R&B group in the '50s and '60s that traveled extensively around the country. Some of their hits were 'Dedicated to the One I Love,' 'Please, Please, Please,' and 'Someone Made You for Me.' He held several honors, including an induction into the R&B Hall of Fame in Raleigh, a special tribute with a street in Winston-Salem being named for the Five Royales, and a tribute/dedication held in Charlotte. Mr. Tanner was a former employee of Centenary United Methodist Church.

Preceding him in death were two brothers, Arthur McGee and Eugene Tanner, Jr.; and a sister, Azalee Hunter.

He is survived by his wife, Cornelia Fuiell Tanner; four children, John L. Tanner, Jr. (Margretta), Calvin L. Tanner (Vivian), Denise Tanner Hughes and William B. Tanner (Lizzie); three brothers, Purnell Tanner (Mildred), David L. Tanner, and Dr. Fredrick D. Tanner (Dorothy); six grandchildren; 15 great-grandchildren; a sister-in-law, Eloyse White, of Portsmouth, OH; and a host of other relatives and friends.

Funeral service will be conducted at noon, Friday, Nov. 11, at St. John CME Church, 350 Crawford Place, Winston-Salem, with the Rev. Bobby Best officiating. Interment will be in Parklawn Memorial Gardens. Family visitation will be held from 11:30 a.m. to noon at the church. The family will assemble and leave from the home of the daughter, Denise Tanner Hughes, 186 Luzelle Drive. Online condolences may be made at www.russellfuneralservice.com (Russell).
---------------------------------------------------------------

That's it. Even if you lived in Winston-Salem you'd most likely have missed this.

He deserved much better.

And as for the band's true visionary and creative genius Lowman Pauling? After continuing to make sensational music in the mid-sixties that was completely ignored, he died of a seizure while performing his custodial duties at a Brooklyn synagogue on December 26, 1973. He was 47 years old. Apparently he had struggled for years with alcohol dependency… He must have been absolutely heartbroken. To imagine the final days of such a talented man dying in obscurity as a janitor is truly sad beyond words.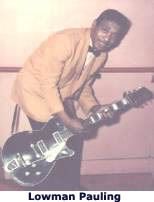 He, too, deserved much, much better!

Hearing the 'Catch That Teardrop' CD this week, and getting reacquainted with this outstandingly gifted band, a band rightly considered 'The Greatest R&B Vocal Group in History' by people familiar with them, it was as if they had come back with one last new release. A new release so fresh and vibrant and different from their most well known 50's tracks, it instantly made them come alive again.

Of all the CD's I've listened to in 2007, this one tops the list as the greatest album of the year.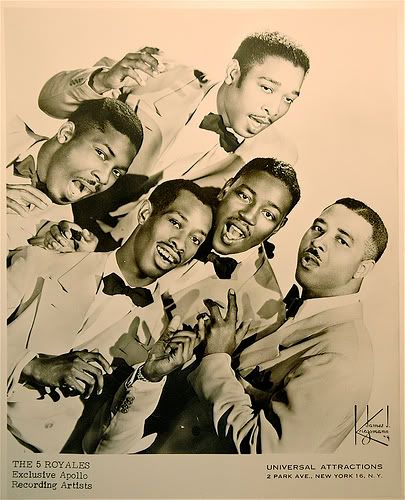 Current Music: The Five Royales - Catch That Teardrop