Anyone who knows me knows that I'm a big fan of country singer/writer/performer Red Foley. I'm always on the lookout for his recordings. This week I picked up one of his last albums released in 1965, the long out-of-print LP 'Songs Everybody Knows'. The liner notes are particularly interesting. Not only because Cowboy singer extraordinaire Tex Ritter wrote them, but because of the thinly-veiled hostility Tex had, not only for The Beatles, but it seems for all rock n' roll performers. You just don't see liner notes this honest and vitriolic any more. As with Lynyrd Skynyrd's put down of Neil Young on Sweet Home Alabama, I don't agree with the message but I sure do like the anger!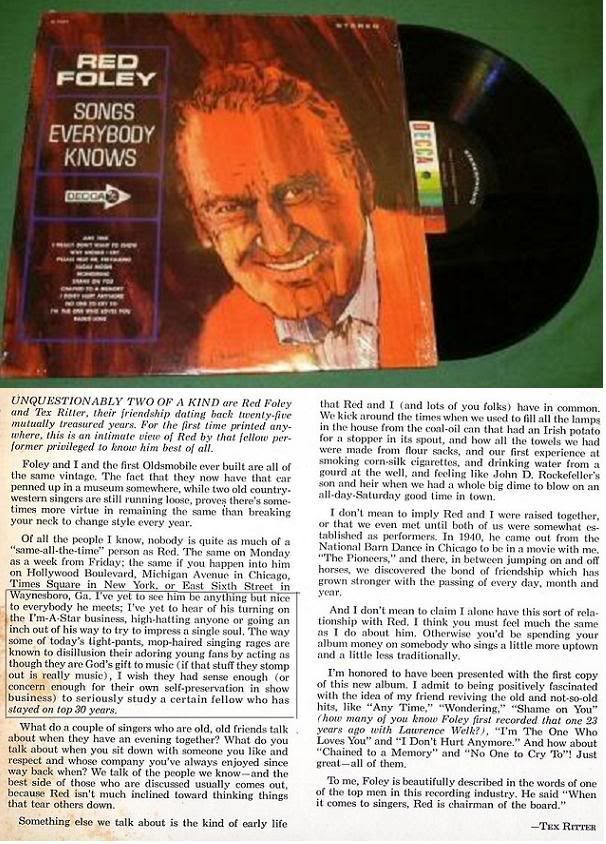 For clarification, here is what Tex Ritter wrote:
… I've yet to hear of his (Red Foley) turning on the I'm-A-Star business, high-hatting anyone or going an inch out of his way to try to impress a single soul. The way some of today's tight-pants, mop-haired singing rages are known to disillusion their adoring fans by acting as though they are God's gift to music (if that stuff they stomp out is really music), I wish they had sense enough (or concern enough for their own self-preservation in show business) to seriously study a certain fellow who has stayed on top for 30 years.
Take that, John Lennon! Don't mess with Texas!


Current Music: Red Foley - Songs Everybody Knows